Article published the 02 Mar. 2022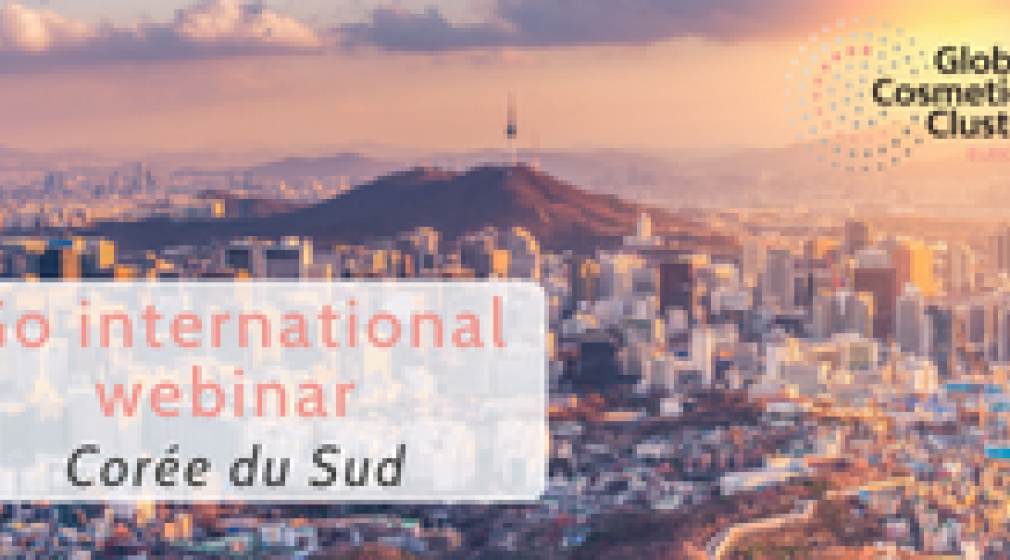 Webinar At "South Korea - Cosmetic Market Study At"
On your calendars! Do not miss the return of the market study on the cosmetics industry in South Korea . Study carried out as part of the Global Cosmetics Cluster-Europe export acceleration program .
Some practical information
---
À°Å¸"œ"¦ Date: March 8, 2022 – 9:30 a.m.
À°Å¸-"˜ Format: 1-hour webinar delivered in English
°Ÿ"œÂ¢ Speaker: Kompass
In the program
---
Real opportunity to develop your market knowledge on:
- Cosmetic and commercial behaviors
- The intercultural dimension
- BtoB and BtoC promotion
- Regulations
- ...
Are you interested in the cosmetics market in South Korea?
Register by following this link
Also interested in USA, UAE, India and/or Mexico?
---
The Export Global Cosmetics Cluster-Europe acceleration program supports you by offering free of charge to members of the Cosmetic Valley network:
- Detailed market studies on these 5 countries
- On-the- fly watch bulletins
- Personalized monitoring
- Webinars
- Awareness of public co-financing for your export development
- BtoB missions :
South Korea – May 22 to 27, 2022 - Express your interest
USA – From July 12 to 15, 2022
- …
Global Cosmetics Cluster-Europe is a European consortium based on a common strategy to accelerate the internationalization of SMEs in the field of cosmetics. This 24-month "European Strategic Cluster Partnership – Going International" ESCP4i project is co-financed by the COSME program of the European Union.
Project partner clusters: Cosmetic Valley (coordinator), AEBB (Portugal), Beauty Cluster Barcelona (Spain), IKMIB (Turkey), Polo della Cosmesi (Italy), Transilvania Lifestyle cluster (Romania).