Article published the 19 Jul. 2023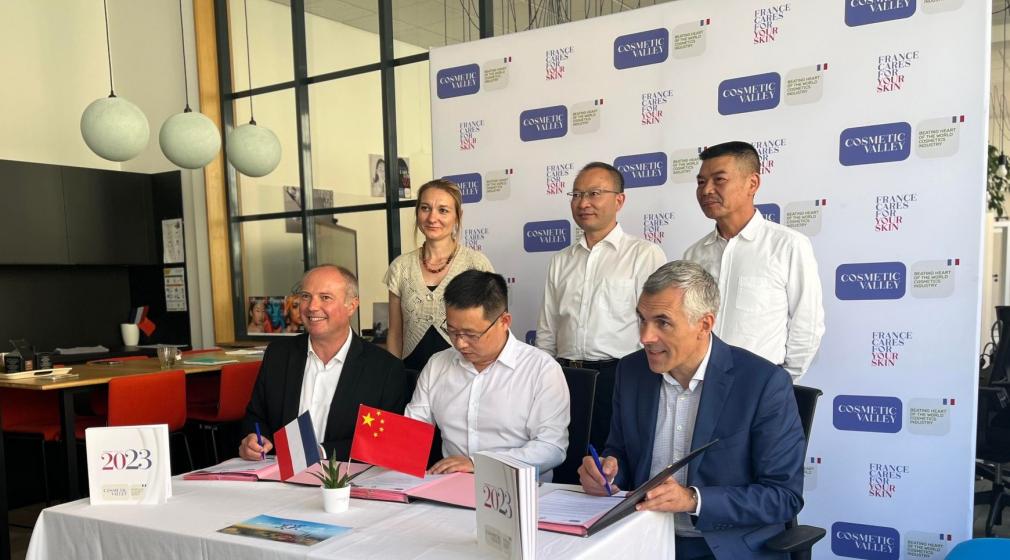 COSMETIC VALLEY AND BEAUTÉVILLE HAVE RENEWED THEIR VOWS
On July 7, 2023, COSMETIC VALLEY and the City of Chartres received the main founders of Beautéville, China's beauty hub, on the occasion of the signing of a declaration which consolidates the draft partnership agreement already signed in 2018 .
This tripartite partnership agreement (City of Chartres, COSMETIC VALLEY and BEAUTÉVILLE) facilitates cooperation between local players in the sector. It also involves helping young innovative companies in their commercial deployment in China – the main export market – and promoting France, and more particularly Chartres, as an essential territory for cosmetics.
COSMETIC VALLEY signs here a new chapter of transnational cooperation and continues its commitment to take the cosmetics industry to new heights of innovation, excellence and export success, after a health crisis which has considerably impacted the economic model and which represented a major obstacle to the implementation of this partnership with Beautéville.
This new visit testifies to China's interest in COSMETIC VALLEY, which carries the voice of the cosmetics industry on a global scale. It is a real accelerator for French SMEs and start-ups, renowned for its formidable network dynamics promoting the innovation of Made in France cosmetic products.